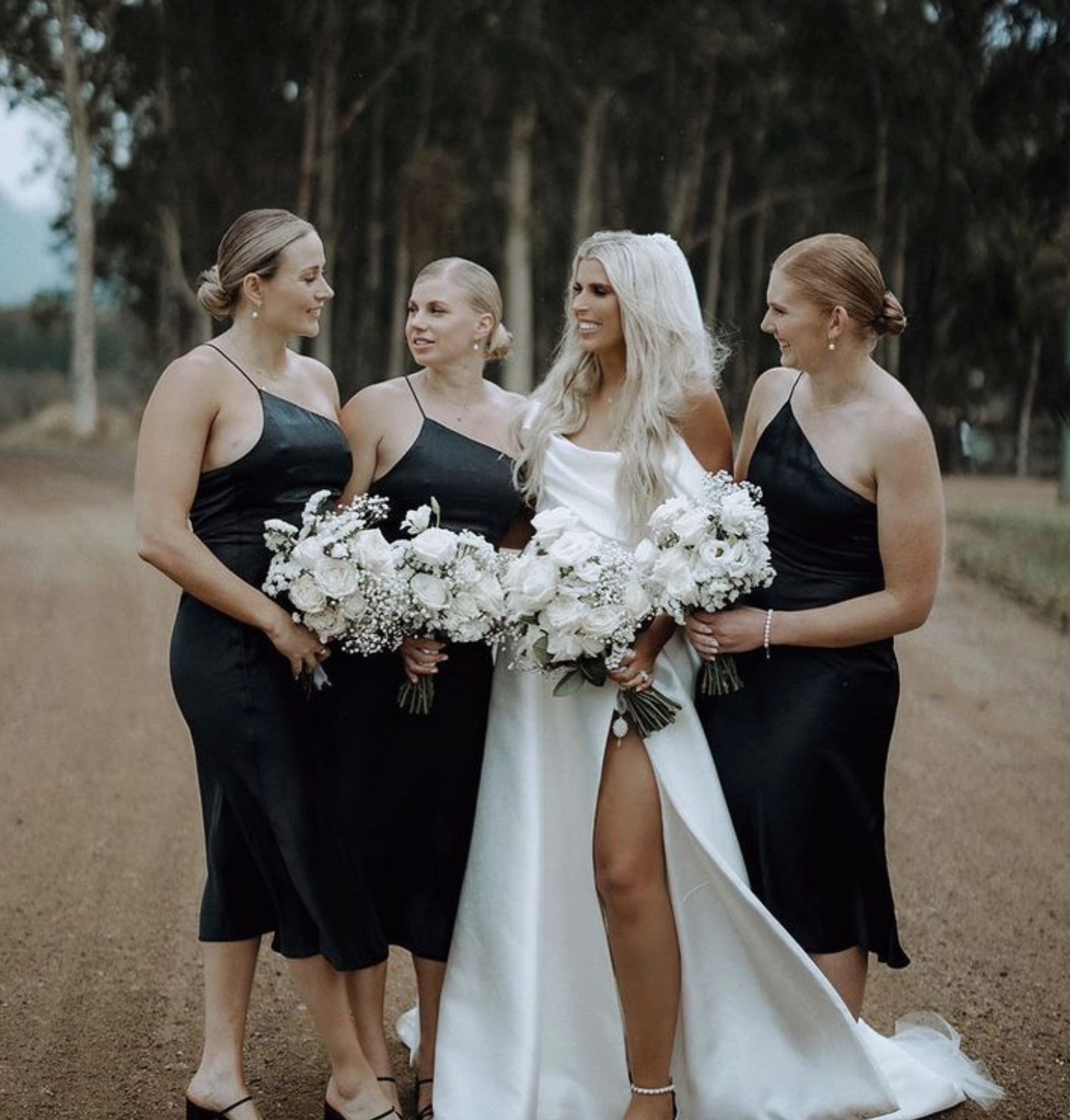 Discovering the Perfect Wedding Jewellery for You and Your Bridesmaids
As you prepare for your special day, finding the right jewellery to complement your bridal gown and personal style, as well as accentuating the beauty of your bridesmaids, is essential. Australian brides-to-be and their bridal parties are embracing a delightful mix of classic and contemporary trends, adding glamour and elegance to the wedding celebration. Let us explore the latest bridal jewellery trends in Australia, offering inspiration for you and your bridesmaids as you search for those perfect finishing touches.
(Source: @Brittaustin's Bridesmaids wearing Camile & Stone Jewellery) 
1. Elegant Simplicity
Many brides and bridesmaids are opting for elegant and simple jewellery to enhance their natural beauty. Delicate necklaces, subtle stud earrings, and fine bracelets are popular choices, often featuring moissanite diamonds or pearls for a touch of refined luxury. Allowing you and your bridesmaids to showcase your individual styles without drawing attention away from your dresses.
2. Bold Statement Earrings
While some prefer a minimalist approach, others are making a bold statement with eye-catching earrings. Large hoops, extravagant and striking geometric patterns are gaining popularity, often adorned with gemstones, pearls, or crystals. These dramatic earrings can transform your and your bridesmaids' looks, adding a touch of sophistication and flair to your wedding day ensembles.
3. Layered Necklaces
Layering necklaces is a fashionable trend that has found its way into bridal and bridesmaid jewellery, allowing you to create a unique and personalised look. Jewellery with personalised initials is a very popular gift for the bride and bridesmaids. Delicate chains of varying lengths, often featuring pendants, pearls, or gemstones, can be combined to create a stunning and versatile neckline. This trend offers endless possibilities for customisation, ensuring that each person in your bridal party can express her individual style.
(Source: @Maddistory wearing our Initial Letter Bracelet on her wedding day) 
4. Colourful Gemstones
As you seek to infuse your wedding day with personality and flair, colourful gemstones are becoming an increasingly popular choice for bridal and bridesmaid jewellery. Sapphires, emeralds, rubies, and other vibrant gemstones can add a pop of colour and a unique touch to your ensembles. These colourful jewels can also hold special meaning, representing birthstones or other sentimental values.
5. Ethical and Sustainable Choices
A growing number of brides and bridesmaids are prioritising ethical and sustainable practices when selecting their wedding jewellery. Camile and Stone Jewellery use recycled metals, conflict-free diamonds, and fair-trade gemstones are gaining popularity, as you and your bridal party seek to make responsible choices that align with your values.
Australian bridal jewellery trends showcase a harmonious blend of timeless sophistication and modern glamour for you and your bridesmaids. From minimalist designs, personalised jewellery, statement pieces to colourful gemstones, there are options to suit every individual style and taste. By selecting the perfect accessories, you and your bridesmaids can enhance your wedding day looks and create unforgettable memories to cherish for a lifetime.